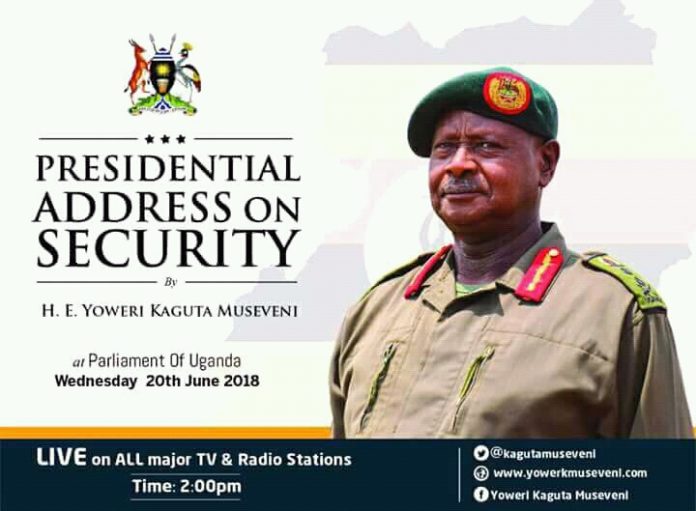 While ddressing a special sitting of Parliament this afternoon on the question of security, the President announced 10 measures the government will undertake to check insecurity in the country.
1. All legally held guns will be finger-printed. When this happens, once a cartridge is fired, we shall be able to tell which gun discharged the bullet. If any legally-held gun is used in crime, we shall trace it, this includes guns in private hands but licensed by the police.
2. Every vehicle and motorcycle will be required to have electronic number plates with an electronic signal, installed at cost of the owner. However, we shall protect people's privacy.
Our concern will only be with vehicles or pikipikis seen in an area where crime is committed. If one attempts to interfere with the number plate, the central monitoring unit will be notified.
3. Hoods for motorcycle riders is banned. Police will charge anybody covering themselves that way. Riders will also have to wear helmets with illuminated numbers both at the front and back.
These helmets will be registered and details captured in the central monitoring hub. I encourage the National Enterprises Corporation and our private sector here to manufacture these helmets here. We should not spend money importing them.
4. Installation of cameras on town roads and streets and along highways. Potentially the criminal or enemy can evade other forms of detection except the optical; eye, camera and telescope.
If necessary, the cameras will have thermal sensors. If criminals try childish games of covering their heads, they will be seen at the command post.
5. Modern foresinc laboratory. I thought the national ID project should have done this. We shall capture thumb prints and DNA of criminals so that we can trace once blood is left at the crime scene.
Even other elements like sweat, saliva, hair will also be analysed. If you want our country to be peaceful, why fear to offer DNA for storage. Support me so that we stabilize our country.
6. Speed of response and how quickly we arrive at the scene. I have directed the police to revive the 999 and reform the Flying Squad. It should be a real flying squad. We are providing UAVs (Unmanned Aerial Vehicles or drones) and light helicopters.
7. The enemy can also use drones to promote crime. The defence committee has authorised 30 UAVs. We have 130 applications while 500 have been impounded. They were being smuggled into the country. The responsible minister will bring a law to regulate use of these drones.
8. Misuse of social media. Criminals use social media to threaten violence and create panic. We are going to acquire capacity to quickly locate criminals abusing social media. The government does not want to block these sites but we shall pick out the jiggers. We won't cut the entire foot.
9. Acquire more scanners under the Uganda Revenue Authority to check all containers coming into and exiting the country. Criminals hiding guns as cargo will be grabbed. The Era of weak or non-existent state authority ended.
10. Back to the army. Our strategy is a small, professional, well-equipped army, backed with a large reserve force. Our military capacity is robust created over last 50 years. We have capacity to defend Uganda.