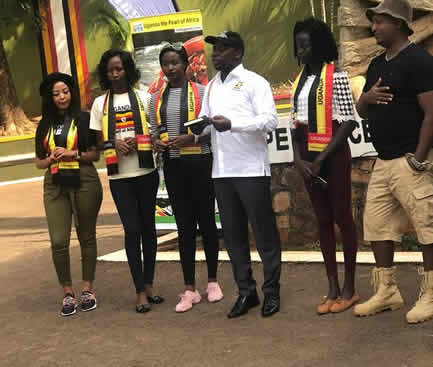 The state minister for Tourism Suubi Kiwanda has flagged off the team going for the Tulambule eastern tour in a bid to promote tourism. The team is headed by socialite Anitah Fabiola, Miss Tourism 2018, Miss Tourism Karamoja and Miss Earth.
The Tulambule campaign is an initiative that was started in 2018 with aim to promote domestic tourism. This campaign was started by the ministry of tourism and Uganda Tourism Board a parastatal responsible for promoting and marketing Uganda as a tourism destination.
Uganda has so many attractions to offer to its local people from the national parks with unique wild animals, natural physical features like waterfalls, rivers, mountains and forests to the recreation centers and resorts. However, it is a pity that the domestic tourism market is still below par since most of the nationals in the country think tourism is for the rich and people from the western world. The nationals hardly think of visiting the different natural wonders of Uganda due to the fact that they perceive that tourism is very expensive and thus many cannot afford. This misperception is very wrong. Uganda is one of the cheapest country to travel around and the bodies responsible for tourism have subsidized the different tourist attractions for the nationals as they pay less fees compared to the outbound tourists.
Due to the low involvement of nationals in tourism, the Uganda tourism board has put up a campaign to make Ugandans know the different tourist sites and how exciting it is to visit them.  This has been done by market popular figures and beauty queen to act as ambassadors on this campaign. These popular figures and beauty queen pull a mass of following on social media so when people see them post their pictures in the different tourism sites in Uganda, they might get interested and also get involved in visiting and experiencing the tourist attractions in the country.
This Tulambule campaign has been running for the past years and different icons have been involved like Zari Hassan a renowned socialite and now Anita Fabiola a media personality has also embarked on the cause. Anitah's first tour is traveling to the east of Uganda where the longest river in the world the Might Nile starts its journey to north of Africa, Mountain Elgon, Nyero Rock Painting and Tororo Highlands
Before Anitah embarking on the Tubambule Campaign, the minister of tourism had unveiled Quiin Abenakyo the reigning Miss Uganda and Miss World Africa as the ambassador of the Tulambule east campaign. However she failed to turn up for the occasion and news has been making rounds that Anitah Fabiola has replaced Quiin Abenakyo for the ambassadorial post. Hon. Kiwanda refuted the allegation that Quiin has been replaced by Anitah.