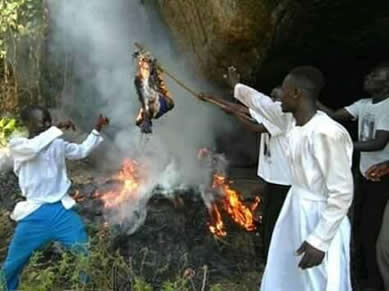 There is peril in Bunyoro kingdom which is caused by a disagreement between the Bisaka religion and the cultural fanatic people of Bunyoro kingdom. This a serious threat to cultural tourism in Uganda because Bunyoro kingdom is one of the few kingdoms in uganda with the few left remains of the tradition societies before colonial rule.
Cultural tourism on threat by Bisaka Religion in Uganda.This was evidenced when Believers bunt Bunyoro kingdom cultural sites called Semweema in Kakumiro district in Bunyoro sub region.This attracted live bullets due to the Fights between the two sides the host community and
Owobosobozi Biska believers(Faith of Unity).The act of burning down cultural site attached to Bunyoro Kingdom at Semweema hill threatens the continuity and preservation of Bunyoro culture.
The faith of unity believers who claim to have been sent by Bisaka who is presiding over a function at Kakeka playground in Kakumiro town today, suspected the cultural site to be used to witchdoctors and ritualists.
Over five people have been arrested and several injured.
There was a commotion as people pelted stones against Bisaka belivers for attacking the cultural site.
It took the intervention of UPDF unit that guards Bisaka to quell the pandemonium. However,the UPDF soldiers are now arresting people in town over suspected involvement in the attack against Bisaka believers.
Bunyoro kingdom is one of the indigenous tribes in Uganda and lots of history is attached to it having witnessed different strong dynasties since time memorial. The Bunyoro region witnessed the Bachwezi dynasty who are said to be the instigators of civilization in Uganda. it also had one of the greatest kings in uganda Omukama kabelega who wholeheartedly resisted the British colonial rule in the 19th and early 20th century.