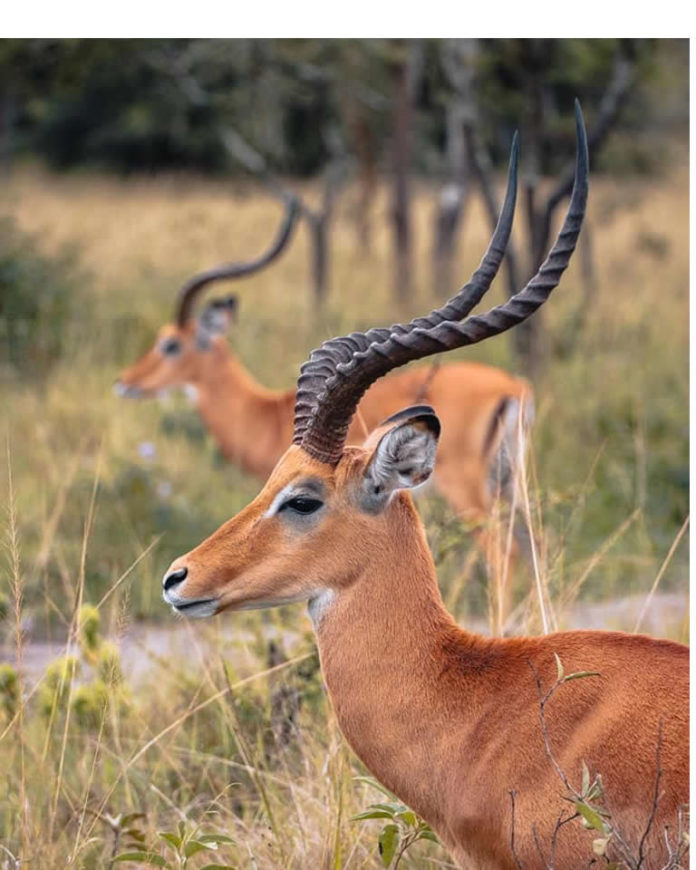 Uganda is a beautiful country gifted by nature. The country boasts with about 10 national parks and countless nature reserves which are home to a wide range of wildlife (flora and fauna). Based on your interests, the wildlife is distributed across the country.
A Brief of what to find in the National Parks:
It is important to prioritize what you need to do in Uganda otherwise you might end up spending over a month visiting the different national parks in the country. I would classify these parks based on 3 elements which include; Primates, Mountains, and Savannah.
Primates: Here we basically mean the Gorillas, Chimpanzees and a number of other types of Monkeys. For Gorillas, there are two parks that can be visited for easy sighting of these gentle giants namely; Bwindi Impenetrable Forest National Park which is home to over half of the remaining mountain gorilla population of the world, and Mgahinga Gorilla National Park which is located in the Virunga Conservation area bordering Rwanda and Democratic Republic of Congo. There is also Chimpanzee tracking which has been very well developed in Semliki Wildlife Reserve, Budongo Forest of Murchison Falls National Park, Kyambura Gorge of Queen Elizabeth National Park, as well as Kalinzu Forest close to Queen Elizabeth National Park. And the park where you are guaranteed 98% chance of viewing the chimpanzees is Kibale Forest National Park.
Mountains: Uganda has two mountains that have been developed for hiking which include; Mountain Rwenzori commonly dubbed as the snowcapped mountains of the moon as well as Mountain Elgon. There are also hikes arranged in Mhahinga Gorilla National Park where you would hike the volcanoes that make up the national park.
Open Savannah: This is the most common characteristic of national parks in East Africa where there is a possibility of doing game drives. Uganda is gifted with the Big 5 and depending on what kind of wildlife you are interested to view, there are different national parks to offer this which include;
Kidepo Valley National Park; which is well known for its wonderful view of landscape as well as wildlife to include; Zebras, Giraffe, Lion, Leopard, Elland, Kob, Waterbucks, Elephant, Buffalo, to mention but a few. Murchison Falls National Park; which offers a very unique experience of viewing the Big 5 for enroute the park from Kampala, there is the Ziwa Rhino Sanctuary where you can do the Rhino tracking then proceed to Murchison Falls through Budongo Forest, after you are welcomed by the mighty Murchison Falls with views from the top of the falls and after you cross the River Nile, game viewing with chances of seeing the Giraffe, Lion, Leopard, Kob, Patas Monkey. There is also a boat trip on the Nile where you could see countless water birds, monitor lizard, hippos, crocodiles and the falls from the bottom.
Queen Elizabeth National Park; boasts the highest biodiversity rating of any national park in the world. The park has lakes Edward and George which are joined by the Kazinga channel, and a boat trip on this channel rewards you with a number of bird specifies with buffalo, and elephants often sighted grazing on the banks of which hippos and crocodiles also exist in the channel. There is the Kasenyi plains very much suitable for game drives, the Ishasha sector which is famed for the tree climbing lions, elephants, topi, as well as buffalos, not forgetting the Kyambura Gorge for the chimps.
Semliki Wildlife Reserve; this reserve is more pronounced than the Semliki National Park although they are close to each other. At Semliki National Park, there are the hot springs as well as the Pygmies while the Wildlife reserve has opportunities for game drives as well as chimp trekking. It is at Semliki Wildlife Reserve where a beautiful lodge called Semliki Safari Lodge is situated.
Lake Mburo National Park; considered the smallest savannah park in Uganda. It is the closest park to Kampla, the capital city of the country. There has been a successful introduction of the Giraffes to this park. You can as well find Zebras, Ellands, Kob, Waterbuck, and rare sightings of the Leopard have occurred here. The community around the park are pastoralists hence, Ankole long horned cattle are often seen around.
The above is a general overview of what to expect in the different national parks in Uganda however, there are also other aspects which are interesting to people most especially the culture from the different parts of the country. I have put together insights to help you prepare for your Self Drive in Uganda vacation better based on the interests at a particular time.
Once you have knowledge of the above, it is much easier to determine what to do in the specified number of days you have in the country and from here, you can go ahead and look for a car rental company to meet your desired needs. Make sure to go for a 4 wheel drive vehicle while going to the national parks because the roads in these parks have been kept in their natural state although often time Uganda National Roads Authority maintains them.
Some places in the country are above 1500m above sea level thus, in case you have had issues with altitude before, seek medical advice before traveling. This mostly applies to the south western part of the country where Bwindi Impenetrable Forest and Mgahinga Gorilla National Parks are found.
Now that you know where to find the different wildlife throughout the country and identified the right type of car to rent while on your vacation, it is important to know what type of clothing to go with on your vacation. Uganda being a tropical country, expect rain any time of the year however, the rain patterns may differ depending on the region you are at a particular time. The northern part of the country is generally a hot place, and light clothing is advisable although the nights can be general cold hence the need for warm clothing. The south western and western part of the country is generally cool so, warm clothing is a must carry. For your journeys through Uganda, we encourage you to carry easy to wash clothing for at most places, the clothes are hand washed and sun dried. In case you are staying at a place for only a night. We would not recommend that you wash your clothes from that place.
Once you have all the above checked, be sure to enjoy your Self Drive vacation in Uganda and you will live to refer to your lifetime experience.