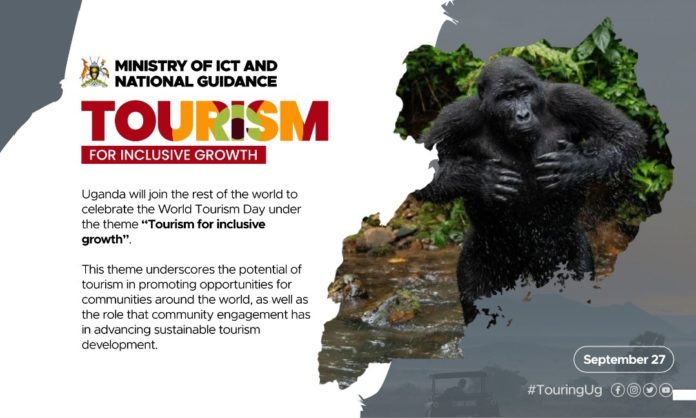 As COVID-19 has zeroed the tourism and travel worldwide, we needed some fresh breathe and guess what, the World tourism day was the new air to inhale. The world tourism day that was celebrated yesterday on 27th September 2021, reminded us that our beautiful sector, Tourism is something people still cherish and yearn for, even in these trying times.
On the various social media platforms, people globally gave a notch in recognition of the world tourism day. Here in Uganda, great personalities like Joshua Cheptegei, Eddy Kenzo and more labored to post on their social accounts to joyfully celebrate the day.
The theme of the celebration worldwide was "Tourism inclusive for growth". In context, this meant that Tourism should benefit all the various stakeholders from the wildlife, local communities to tourism service providers.
This theme has almost been a mantra for every eco tourism destination around the world but not put into its real practice. We now hope that, since there has been awareness globally, avenues will be set up to attain it. "Tourism inclusive for growth" forges sustainability as stakeholders are brought into a win win scenario and henceforth protecting nature and other touristic sites becoming a prime responsibility for all.
The highlights of the day on the world tourism day in Uganda include; the birth of a baby gorilla within the Mishaya Family. The Mishaya family is one of the 19 habituated gorilla families in Uganda. The family abodes in Rushaga sector, one of the four gorilla environs in Bwindi impenetrable National park. Mishaya previously comprised of 7 members and now the newly born gorilla becomes the 8th member. This was really some great news to Gorilla conservation. The population of the gorillas is sequentially increasing.
The day really ended on a sad note as it was revealed that two chimpanzees were found dead in Bugoma forest. A lot of bickering has been going on in this eco forest located in the west of Uganda within Bunyoro region. There are opportunists who are determined to get rid of the forest to turn into a sugar plantation for their own gain. This will leave lots of wildlife species with no home. Yesterday, we witnessed two chimpanzees lying dead on an eco green ground. The reason for their killing has not been revealed yet.
The world tourism day was a rollercoaster experience, the day started in high spirits with celebratory events worldwide, social media notches and birth of a new gorilla and it ended in a low mood, two chimpanzees were killed in Bugoma forest.