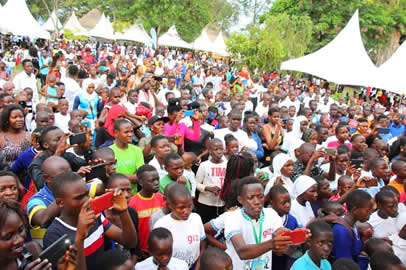 Jinja is the most adventurous city in Uganda. This city located in the east of Uganda has so much features to enjoy as a tourist since the might Nile starts its long journey to the north of Africa. In Jinja, adventurous activities like boat cruising, whitewater rafting, quad biking, bungee jumping, kayaking and fishing are carried out. Due to the aforementioned tourism activities, Jinja gets thousands of tourists throughout the year.
Last weekend fishing was the big deal where a fish festival was held at forever resort located next to the new bridge and the a moth of people turned up for the event.
For an event taking place for the first time ever, the turn up was huge. Fish stalls were filled with all types of fish at a small fee and revellers enjoyed and sampled these varieties.
The event goers were also treated to music from Cindy Sanyu and a host of other musicians.
The event is held in Kampala, Entebbe and Jinja. According to event organizers, it will be annual event of enjoying fish by the Nile.
The event joins a long list of annual events held in Jinja (including Nyege Nyege, Agricultural Show among others) that have turned the city into the Fun Capital of Uganda.