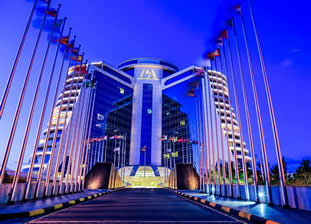 The news roaming around the hotel fraternity in Uganda is that one its five star hotel the pearl of Africa hotel sacked all its staff.  The feed has become concentrate and deep today but the booting was done on the 1st of September 2018 where the human resource manager held an emergency meeting with all the workers broke the bad news to them. Mr. Lawrence Kulanga the human resource manager informed the employees that a new investor was to take over the hotel by October thus leading to the termination of the employment contract with the hotel.
He further informed them that during the transition period, they can be hired as casual workers under evaluation and they will be paid as necessary.
Pearl of Africa hotel is one of the few five star hotel in Uganda and it is an architectural marvel for the scenic viewers. It has very unique architectural designs that make an onlooker have profound stare at it. This wonderful hotel is located in the central region of Uganda, Kampala city at Nakasero hill.