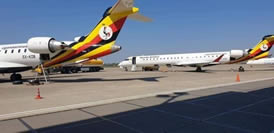 The long waited Bombardier CRJ 900 jets dubbed the Uganda Airlines arrived at Entebbe airport today morning at 9:00pm (23rd/April/2019).
For ages, the nationals of Uganda have been longing for a national air carrier since the country had been made a mockery by neighboring countries for not having an air carrier and also the air transport fares seemed too expensive for Ugandans.
It is imperative to note that this is not the first time Uganda has had a national air carrier, it was into existence during the famous dictator Idi Amin Dada in the 1970s and it was shutdown in 2001 due to mismanagement and the alarming losses it was making.
At the shutdown of the Uganda Airlines, the stakeholders in the travel industry got bamboozled by the decision since the airlines provided one of the cheapest deals for the travelers.
At the turn of this decade, the travel fraternity pursued the revival of Uganda Airlines though their pursuit were futile till four years back when the Ministry of Transport apprehended that they would look into the matter.
In 2016, the government of Uganda announced that the Uganda Airlines could be revived and the news excited many people in the travel industry. At the end of last year, it was announced that Uganda had purchased 4 bombardier CRJ 900 jets and they were to arrive at Entebbe in March.
When the due date for the arrival of the planes came, they were nowhere to seen and this raised serious concerns from the public. However, some days later it was announced that air carriers would be arriving at Entebbe airport on the 23 April, 2019.
As we talk today two bombardier CRJ 900 jets arrived in the morning at 9:00am. The unveiling ceremony was a colourful one, it was graced by The President of Uganda Yoweri Kaguta Museveni and other very important people. The unveiling ceremony was also covered on several national televisions. Today has really been a good day for Uganda, the revival of the Uganda airlines is such a great feat for the country.
So far two planes have been delivered at Entebbe and the other two will be delivered in the months of July and August respectively to make them four carriers. The first two planes that have arrived today will be put under inspection to meet the various certificates to make them fit to fly. They will commence their first flights in July.
The Uganda Airlines will be picking up the former routes it was taking before the shutdown. Some of the notable routes will be Nairobi, Dar-as-salaam, Johannesburg and Juba. The spokesperson of ministry of transport also stated that two airbuses will be brought in next year to start up international flights. For the moment, the fours jets will do regional flights within Africa.