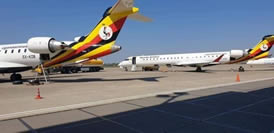 In the middle of last month, we saw the arrival of the long awaited Uganda airlines. The Uganda airlines will start business in the forthcoming months and the government has directed its official to use Uganda airlines while flying out of the country as a sign of patriotism.
Any government official flying to destinations where the Uganda airlines will be operating is compelled to use it.
Jenifer Bamuturaki the commercial director Uganda airlines says they will also use the airline to market all local products from food and other items, urging all Ugandans to ensure they produce quality products that meet international standards.
The Uganda airlines was in existence from the 1970s during Amin's regime but defunct in 2001 for reasons of making losses. However, it has been revived this year 2019 and in the middle of last month, Uganda witnessed the land of two 76 seater bombardier jets that were unveiled by president Museveni at Entebbe international airport.
Uganda airlines will first operate regionally and it will take up its formers routes namely Nairobi, Dar-es-salaam, Kigali, Bujumbura, Johannesburg, Addis Ababa and Arusha. It will later take on the international routes when the airbuses arrive in 2020.