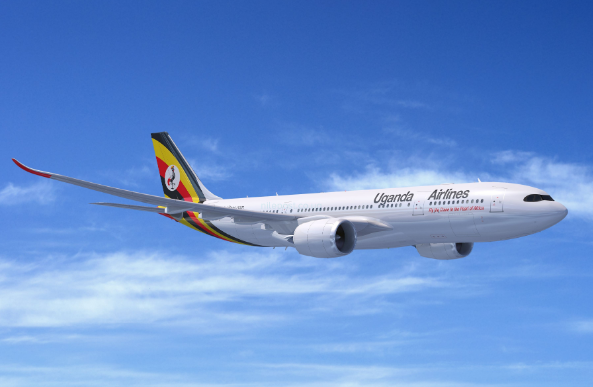 Today mid-morning, the dream came true as the long awaited and planned flight of the revived Uganda airline commenced. The Uganda airlines made its maiden flight from Entebbe airport Uganda to Nairobi Kenya at around `11:00 am today. The flight event was telecasted on most of the national television stations. Today history was made as the revived Uganda airlines made its first flight.
The Uganda Airlines was meant to start its operations last month (July) but there were some technical and operation hiccups that halted its first flight. Many people got skeptical about it and tantrums were thrown from the aggravated public and politicians accusing the government and the management of Uganda airlines for swindling funds that were made for its operation. However, the Uganda airlines management has proved them wrong by commencing business today as we saw of the CJK 900 Bombardier emblazoned with the name " Uganda airlines" flying in the skies heading to Nairobi. Popular government officials right from the prime minister graced the first flight event.
At the start of this year, Uganda brought in two air carriers that were to operate under the name of Uganda airlines and its operations were to be done in the east African region (Kenya, Tanzania, Rwanda, South Sudan and Somalia).  The government of Uganda stated that two more air crafts where to come at the end of the year and also in future a large airbus to operate in Europe was to be brought in. At the unveiling of the Uganda airlines in March 2019, the president of Uganda H.E Yoweri Kaguta Museveni with the first lady were present who took tour around the two aircrafts. He spoke fondly of the feat Uganda had attained of reviving its national air carrier that would easy the movement of people across the African region.
This week is a promotional period for the Uganda airlines where by it will be extending unbelievable cheap rates to its esteemed customers for instance a flight from Entebbe airport to Nairobi will be only Ugx 150000 and return ticket at Ugx300000. Many Ugandans are in contention and excited to fly with Uganda Airlines their national carriers for the first time since its downfall 18 years ago. It has been suggested by the government of Uganda that all its officials will be using the national carrier while flying out in the east African region for official duties. This will be a gesture of patriotism and support for the newly revived Uganda airlines.