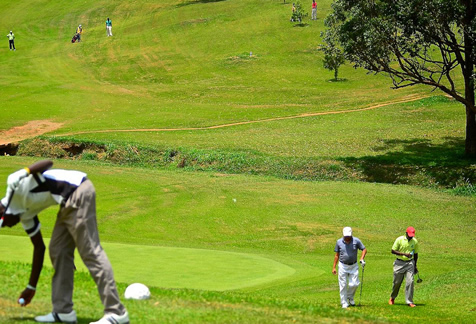 With the major aim of promoting Golf tourism in Uganda, today the Uganda Tourism Board has signed a memorandum of understanding with Uganda Golf Union for a partnership between two bodies which is set to introduce a new brand of Tourism popularly known as Golf Tourism.
This Partnership was launched at Uganda Golf Club in Kitante and it's meant to brand Uganda "The Pearl of Africa" as a premier golf tourism destination in Africa.
A Uganda Golf open tour to promote this idea is soon starting in March and it will extend across different regions of the country in the respective Golf courses including Kitante, Entebbe Golf course, Garuga, Jinja Golf course, Kabale Golf Course, Kinyara Golf Course, Kilembe mines Golf Course and more.
The president of Uganda Golf Union innocent Kihika expressed his appreciation towards their creative partnership with Uganda Tourism Board.
He highlighted this as a great addition to Uganda's top offered things to do turning the country to be a true delight for tourists of different ages, religion and interests.
Distinguishing between Tourism and Golf, Innocent said that Golf is not an event which lasts for only 40 minutes or 90 minutes but rather it's a cool event which usually last for a full day or if not that it may even require for the next day.
In his conclusion he said that Tourism and Golf are more related since it includes travelling to other places like from Kampala to Mbale where you will have to find some nice places to stay, eat and also an overnight.
Then Uganda Tourism Board CEO "Stephen Asimwe" added on that this a great step taken by the two bodies in a right place since most of the Golf courses in Uganda are located near different tourist attractions like Entebbe Golf Course which is located near Lake Victoria, Mbale Golf Course near Mountain Elgon, Jinja Golf Course near the source of the Nile and more.
He added on that, Uganda Tourism Board will provide a sponsorship of fifty million shillings for the promotion which is to run for a full year.