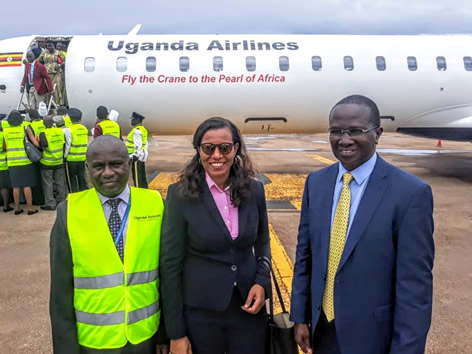 Uganda airlines and Uganda tourism board have struck a joint deal to promote and market Uganda as a tourism destination to the western world markets of Asia, Europe and North America.
In an interview to reveal the plans and the ongoing projects of the national carrier the Uganda airlines, the commercial director Deo Nyanzi said," for tourists to connect to Uganda easily, the national carrier put up flights to the region's tourist hubs".
"The promotion and market should not be done domestically only but also in the outside market. By starting flight operation in Zanzibar we aren't targeting the locals but the tourists that come to the islands for vacation. Many would love to extend their trip to Uganda but there was no convenient means of transport," the top brass of Uganda airlines explained.
The above statement was evoked by Uganda's move in December to start flights to Zanzibar, the eighth on the flight route network of the airline since its revival a few months.
In 2013, the reports indicated that the tourists who came to Uganda where totally contented with its natural wonders but thwarted by tourism amenities like transport and inadequate tourism information.
However the tourism in Uganda has kept on growing year by year as well as the revenues. For instance in 2013 tourists were in thousands in total throughout the year and apparently, they are in millions. The revenue collected from tourism is also about $1.6billions making up about 8% of the total GDP of the country.
By gearing up the marketing exercise more tourists will flow and the expectation is to reach about 1.4 million tourists and the revenue expected to be collected is $4 billion in year 2020.
Nyanzi said that their interaction with the tour operators both local and international, it was evident that the travelers come to the east African region and wish to connect Uganda to visit the various tourist sites but are only let down by lack of connection. Uganda has increased its daily flight on both its Nairobi and Dares salaam routes and also added the direct route Zanzibar to entice tourists to add Uganda to their itinerary.
Uganda airlines is also expecting to add two airbuses that will be making flight operations to Middle East, India and Europe.