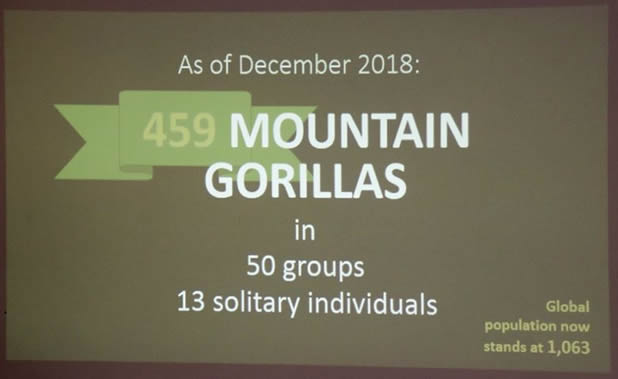 The mountain gorilla census results that was carried out in Bwindi impenetrable national park have been released, this afternoon 16th December 2019.
The much awaited event was held at Serena Hotel Kampala, it was attended by the different tourism stake holders from the local tour operators to conservationist and the outgoing minister of tourism Emphraim Kamuntu was the headliner of the show.
Earlier last week, the Uganda wildlife authority posted on its social media accounts indicating that the results of the gorilla census in Bwindi was to be released today and it has not disappointed.
The outgoing minister of tourism wildlife and antiquities professor Ephraim Kamuntu is the one who unveiled the report of the census.  He affirmed that a mountain gorilla census was carried out in Bwindi impenetrable national park and the results had it that Uganda had recorded 459 mountain gorillas which belonged to 50 groups and 13 lone individuals.
The minister further stated that there was an increase in the population of mountain gorillas in Bwindi impenetrable national park as there was an upsurge from 36 families recorded in 2011 to 50 in 2018 and this isolated natural habitat in Uganda is still leading the Virunga massif shared by the three countries of Uganda, Rwanda and Dr Congo which has 41 gorilla groups per the latest census which was carried out in 2016.
The professor put more shade on Uganda tourism as he said, " we don't only have mountain gorillas but also 11% of the bird species in the world, the highest concentration of chimpanzees and monkey species, the big five animals, the source of the nile, the longest river in the world, the most friendly people and a very tremendous climate.
With the addition of the gorillas in Mgahinga national park, a sister gorilla habitat of Bwindi, Uganda concretely justifies having over 50% of the total population of the endangered species of mountain gorillas in the world and this is a plus to Uganda in the gorilla conservation world.
The total population of mountain gorillas in world now is at an improved number of 1068 individuals when the census results of Virunga massif in 2016 and of Bwindi impenetrable forest in 2019 are put together. This conveys a good result and success to the conservationists and the governments of the three countries who work tooth and nail to save these endangered species from extinction.